Gumby Jesus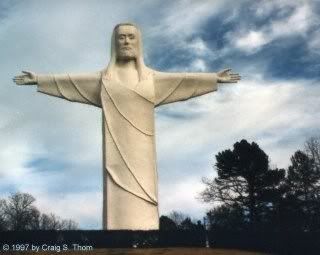 I recently paid a visit to Eureka Springs Arkansas, home of the Great Passion Play, and the Christ of the Ozarks statue. There's also a dinosaur museum. The museum explains how dinosaurs were indeed included on Noah's Ark, although they concede that most of the dinosaurs "weren't fully matured", you know, for space reasons. I'm not making this up.
The Christ Statue sits atop Magnetic Mountain, looking across the small hamlet of Eureka Springs. You aproach the statue from the back. And of course the first thing you think upon seeing the massive head of Christ is, why did they have to give him the worlds largest mullet. The Christ statue's hair is a travesty, but that's not the worst part. He's woefully unproportional. You get the sense that Christ is standing about knee deep in the mountain, or it's a gigantic statue of Christ as a midget. Or what do you call that condition when the arms and upper torso are normal but the legs are too short? Well, that's what the Christ of the Ozarks is afflicted with.
Of course you can't tell anything about what's going on with the Christ's legs because they are covered with a boxy representation of what should be His robe. And I mean boxy. His robe is squared on all four corners, which prompt the more adroit locals to call him "Gumby Jesus."
So I was thinking about the mullet Jesus, and the Noahs Ark dinosaurs, and how totally seperate I am from this whole scene. And then I started thinking about the people who are into this. People do come from all over the country to see this. These are the red-staters. These are Bush's people. I managed a few minutes of small talk with this older couple from Arizona while we were both waiting on the shuttle bus to take us back into the more hedonistic Eureka Springs village, with it's secular book stores, and art galleries, and restaurants that serve alchohol.
"Are you going to the Passion Play tonight?" The friendly older gentleman ask.
"Probably not."
"Why not?" he looked genuinely surprised. "That's the reason we came out here."
"Well, I already read the book AND I saw the movie. The book's better." I smiled.
He hesitated a minute and then he smiled too. His wife pretended like she wasn't listening, nor was she smiling. I hope they went home after the Passion Play and prayed for my soul. I trekked up to the Crescent Hotel, the highest point in Eureka Springs. There in the valley across the distance, the Christ of the Ozarks - it looks better from over here.